Art-focused guided tours in Kraków. "Monuments give you knowledge about art"
Renaissance
Kraków
The era of the Renaissance falls flowering time of the Old Town. At the beginning of the sixteenth century, thanks to King Sigismund I the Old, on Wawel Hill, the site of Gothic Renaissance palace building was built in the Italian style, with a large courtyard, topped with a columnar arcades. Inside the Cathedral, also attracts the attention of visitors Renaissance Sigismund Chapel with a distinctive golden dome, which can be seen on the outside. Walking trail can not be ignored Renaissance Street. Kanoniczna with its unique houses and portals.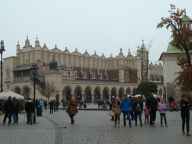 - Wawel Hill, Cathedral –

- Renaissance arts (Sigismund Chapel which is often called as a pearl of the Renaissance north of the Alps)-

- Wawel Castle (exterior) -

- Optional – museum exhibitions in the Castle (Treasury, Armoury - Chambers – earlier booking is a must) -

- Kanonicza street – Renaissance palaces – Grodzka street - The Main Market Square -

- Manneristic Cloth Hall, and Attica- Floriańska street -




Please remember, that we can arrange the route in details together!
Kraków city guides will always give you the best advice!



oprac. przewodnik po Krakowie, Grzegorz Ciemała