Art-focused
guided
tours
in
Kraków.
"Monuments
give
you
knowledge
about
art"
Gothic
Kraków
Fourteenth and fifteenth century witnessed enormous changes in the architectural landscape of Krakow, around which were located in smaller towns, built numerous churches, including the new cathedral. One of the biggest attractions of Krakow are great Gothic monuments, such as the Barbican and Florian's Gate, Collegium Maius once huge churches - St. Mary's, the Dominicans, Saint. Catherine and Corpus Christi. Pearl of Gothic art are works of Veit Stoss.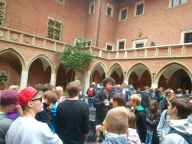 Wawel Hill – Cathedral, and the works of Gothic -

- Cathedral Museum – Wawel Castle (exterior) –

- exhibition of so-called "archaeological worlds" –

- Remains of a Gothic castle – Kanonicza street, St. Mary Magdalene's Square - Collegium Iuridicum -

- Grodzka street – Franciscan Church - Dominican Church -

- Collegium Maius - The Main Market Square - St Mary's Church (interior with gilded altar by Wit Stwosz) -

- Floriańska street – town fortifications together with defensive walls -

- Barbakan – Grunwald victory monument -


Please remember, that we can arrange the route in details together!

Kraków city guides will always give you the best advice!


oprac.
przewodnik
po
Krakowie,
Grzegorz
Ciemała